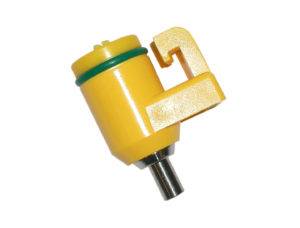 Roasters/PFAs
The best of our world famous VAL-CO nipples, the Roaster nipples (VR150 series), are made from the hardest quality stainless steel used in the industry and individually turned on CNC – Swiss precision lathes.
The Roaster nipples have an optimal triple seal that, with proper management, makes the use of drip cups unnecessary. The Roaster has a thick wear-resistant nipple pin and gives more water than the VBL150 drinker. This nipple is particularly suitable for heavier animals such as broilers, breeding animals and ducks with a high water requirement.
The VBL150 drinker is made of the same top quality stainless steel and with the same precision machining but has a thinner nipple pin, gives less water and is designed for lighter broilers, laying hens and rearing animals.
The Quencher line (VQ150 series) is also made with the same precision from less hard stainless steel and is an interesting alternative to the Roaster in terms of price when used in combination with a drip cup where this is desirable for footpad problems or for animal-friendly / concept production.
Click here to download an article in Poultry Business about Val drinkers